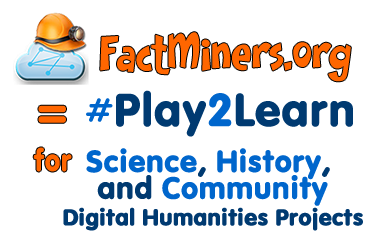 Humans of any age are learning machines. We're also hoarders and collectors. For most of the Internet Age we've been voraciously hoarding and collecting human knowledge as READABLE or VIEWABLE content.
Turning text and image content into "useful facts" is the focus of those working on the Semantic Web. With so much content (Big Data) to transform into facts, the AI community has stepped up to bring Machine Learning, Computer Vision, Natural Language Processing, and similar emerging software technologies to bear on the problem.
By assuming that the Machine inevitably will beat John Henry, we run the risk of letting the exploration and transmission of our Culture become yet another victim of "machine-sourcing." To ensure that we humans don't miss an opportunity for "serious fun," we dedicate the FactMiners Open Source game company to a #Play2Learn Mission by nurturing the FactMiners Entrepreneurial Community Ecosystem.
In support of our #Play2Learn community of grassroots Citizen Scientists, Historians, and Cultural Heritage champions; FactMiners will:
Envision, design, and make freely available our FactMiners Open Source social-gaming platform and developers API (Application Programming Interface) based on our innovative "embedded metamodel subgraph" design specification for Fact Cloud generation and Linked Open Data (LOD) interface.
Ensure that any #Play2Learn game project will fit specifically into one or more of the following categories: Science, History, or Community.
Commit to game design mechanics that celebrate and foster inter-generational storytelling and interaction, especially in the context of exploring and supplementing grassroots cultural heritage projects.
Identify and nurture strategic collaborations with non-traditional partners to help them appreciate their role and realize a contribution to 21st Century learner-motivated learning.
Act as friendly, invited "change insurgent" with Cultural Heritage partners (such as Libraries, Archives, and Museums - LAMs) by creating social-game projects that help, not hinder or complicate, the LAM community challenge of transforming existing institution-specific collections management systems to standards-based, metamodel-driven systems (with integrated #Play2Learn community features).
Work with digital preservation storage providers (Stanford Digital Repository, The Internet Archive, etc.) to develop "pluggable" metadata templates, best practices, and supporting tools within the FactMiners Open Source platform that will help grassroots Citizen Science/History/Culture projects produce archival quality digital collections enhanced by FactMiners play-generated Fact Cloud companion Linked Open Data resources.
Operate the FactMiners Open Source #Play2Learn game company under a project-driven "lightweight production company" model such that each game and collaboration developed will have its own team resource, development funding, impact assessment, and optional in-app donation or organizational sponsorship revenue stream.
--Jim Salmons and Timlynn Babitsky--
FactMiners Founders
Broomfield, Colorado USA