Pressed for time? The short answer is, "Yes, in all the most general and important ways, and 'No' in the specific way that we are designing our #LODLAM social-gaming platform around an "embedded metamodel subgraph" design pattern within an Open Source stack based on the Neo4j graph database and Structr, the Neo4j-based next-gen CMS and web services framework. This innovative design and associated platform will take FactMiners into qualitatively new LAM social gaming territory."
That quickly said, let me provide some backstory and detail in the first of this multi-part post.
I recently had a "tweet-versation" with Mia Ridge – the Oxford-based, PhD candidate in digital humanities, Open Uni (geospatial, crowdsourcing digitisation); Chair of @ukmcg; into code, UX, history and cultural heritage. I responded to her solicitation of input for her dissertation research survey (the link in her Tweet embedded here is live if you have input to share).
I jumped at the chance to share our experience – especially after visiting her blog and reading her Big Ideas about the Participatory History Commons as summarized in the linked post that served as a companion piece to her recent keynote at the Sharing Is Caring seminar.

This post – to which I'll point in Tweet-reply – answers her inquiry and, hopefully, stimulates further conversations and potential collaborations...
So "...have we seen Metadatagam.es or Metadatagames.org?"
Oh absolutely! :-) We're familiar with the amazing fun work of both (Mia's own) Metadatagam.es and the Dartmouth-affiliated Tiltfactor people and projects, as exemplified by their work on Metadatagames.org.
From a Kindred Spirits perspective, all of us (and others doing similar Cultural Heritage social games) are in the same "Serious Fun" Big Tent. Besides sharing many motivational values, there is lots of overlap at the user interaction (UX) and basic game design levels. That is, we're using game dynamics as a motive-force for crowdsourcing activity in response to traditional LAM (Library, Archives, and Museums) digital curation challenges and opportunities. In this sense we all have much to learn and share with each other.
Yet, and this is a good thing I think, each of these and other Cultural Heritage projects take a slightly different road toward the Valhalla land we all see on the horizon, and which Mia has conveniently and effectively characterized as the Participatory History Commons as shown here diagrammatically (click to enlarge this image from Mia's PHC article):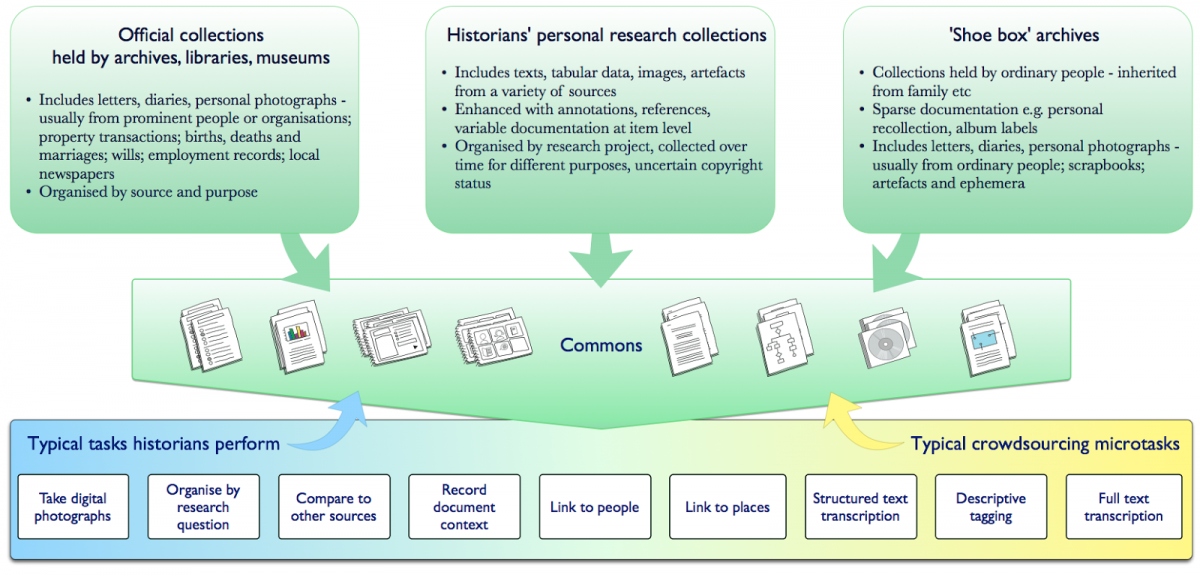 This diagram will be extremely valuable in helping us talk with each other about where and how we see similarities and differences between our projects' goals and methods.